Mum who let toddler pump car petrol charged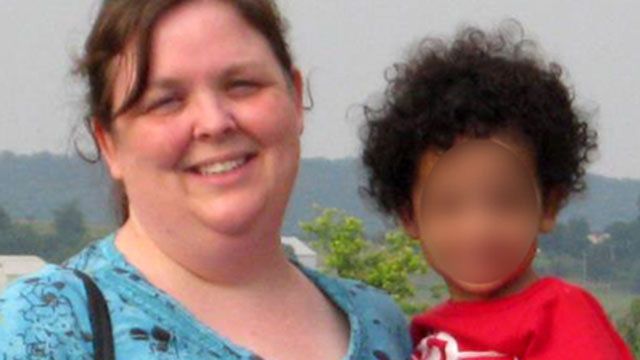 It's cute when little kids want to be like Mummy or Daddy, imitating ironing, cooking, mowing the lawn etc. Usually the kids use toy lawn mowers or toy stoves for that sort of play. Hell, you can even get toy petrol bowsers and cars that you can pretend to fuel up. I used to pretend that the gas meter at my grandparents' place was a petrol pump. But it was all pretend, because toddlers aren't ready for grownup responsibilities like safely refueling a vehicle.
Theresa Moran Camara (46) from Pennsylvania let her 3 year old son refuel her car. Because fuel nozzles are so bloody heavy and unwieldy, the kid managed to spray petrol all over himself. Police were called to a supermarket/petrol station after witnesses saw the stupid breeder trying to teach her toddler how to use the fuel nozzle, and then jump back into the car leaving him to do it all by himself!!. When the boy removed the nozzle from the fuel hatch, he didn't release the trigger and ended up spraying petrol all over himself. By the time the police got to the petrol station, the silly sow had left, but witnesses jotted down her rego number and police were able to confirm her daft actions from CCTV footage.
The idiotic bitch has been charged with endangering a child.
Now for my two bob: I knew straightaway that this was going to be trouble. I don't know what the laws are in the US, but in Australia it's illegal for anyone under the age of 16 to refuel a vehicle at a petrol station. Even then, I wasn't taught how to pump petrol until I bought my own car. How lazy is this bitch? I heard that some places in the US, they don't even let you pump your own fuel, they have an attendant to do it for you. How was the 3 year old supposed to go in and pay for the petrol? He can barely see over the counter! I don't know what was with that tw*t-bitch, whether she was lazy or her toddler bugged her enough to let him "play" at garages with a real car and petrol pump. The first time my sister learnt to pump petrol, the same thing happened. She forgot to let go of the trigger and sprayed it all over her feet. An old man laughed at her. Then when I learnt to do it, I couldn't get the bloody fuel cap off (weird European car) and even though I shook the nozzle thoroughly, a sneaky drop of petrol managed to get on the duco and I panicked and ran for the watering can.
Petrol on skin can cause irritation due to the hydrocarbons stripping away the oils. On a delicate toddler's skin, the effects would be magnified. If the kid had pica or something, he could've tried to drink it!! He could've dropped the nozzle on his foot (they're quite heavy) or someone could've snatched him right out from under his neglectful pig breeders snout. This bitch simply didn't think things through due to her laziness and idiocy.
(Visited 1 times, 1 visits today)