Police: Iowa man locked 5 kids in bedroom all day
UPDATE: Police say Westgate child abuser used secret door
I wasn't sure I would be able to post another story today. After having posted the one about little Peyton earlier, my eyes are still red from weeping about that poor child. However, I decided that the sheer volume of asininity involved in this situation warranted immediate attention.
Sooooo…..this is a two-fer….kinda. Same people involved, same children, but different charges on different days – but I'm getting ahead of myself. Let me begin at the beginning.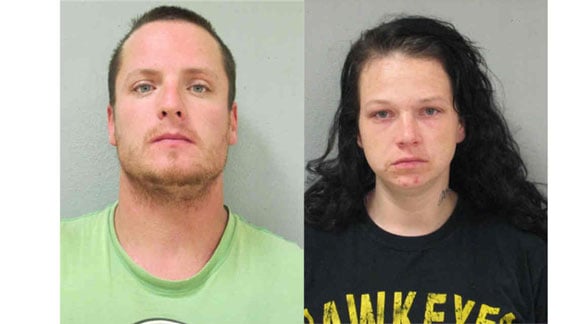 The two outstanding individuals who grace the page just above are crack snacker Joshua Steinbronn, 28, and his main snatch (or is that snack? Oh well, apply the descriptor any way you like), Jonya Smith, 29. It seems that these two stellar parents (and I use that term loosely) thought it would be more fun to have pets than kids, so they decided to keep all five kids locked in a single room for hours (sometimes a full day), with no food, water, or access to a bathroom. Oh, wait, I have to add "allegedly" here. The kids were "allegedly" locked up like animals. According to the children themselves. But who's keeping score, right?
Let's back up a little more. This story has me so wound up that I can't decide which order to share the information. Jonya is the mother of five children between the ages of 3 and 9, whose names are not available – presumably to protect their identities since they are all minors. Let that sink in for a minute. Five children over a seven year period. Not unheard of, but dayum, she was a busy little thing, wasn't she? Joshua is NOT the babydaddy. For any of them. Neither of the linked articles mention the father(s?) of the children, so I have to wonder if she knows herself. But, that's just speculation on my part.
Anyway, to get back to the story. On Friday, Sept. 19, 2014, deputies responded to a 'domestic disturbance' at a Westgate, Iowa home. The article doesn't say what kind of home, but I am leaning toward the "mobile" type – you'll understand why a little further along. Upon arrival, LE noticed 'several' children yelling out of a window, and crying. They told officers that they had been locked in the bedroom by their birth organism's current penis du jour. Ho hum. This one is already sounding familiar, huh? 'Not-the-daddy' abusing plaything's kids. The children went on to describe multiple incidents of confinement, and added that they were given no food, water or access to a bathroom for up to 24 hours. They were given cups to pee in, and sometimes had to use the floor as a toilet. Clothing and baby diapers were also conveniently provided for their waste removal needs. How thoughtful. Or gross, depending on how you want to look at it. One of the children had injured her leg trying to escape at some point. I would also surmise that the children were likely not paragons of hygiene, either – if they were not afforded a toilet or basic food, I sincerely doubt the two adult vermin in the home bothered to let them bathe often. I could be wrong – but I doubt it.
Joshua has been charged with five counts each of false imprisonment and child endangerment, as well as possession of drug paraphernalia (LE found a glass tube and scale that both tested positive for meth). According to the first article, he was released on a $5,000.00 unsecured bond, and ordered to stay away from the children.
Meanwhile, bio-slag was busy telling police that they had the story wrong. Her man would never abuse her children. They were making things up. And blah, blah, blah. Then she said that she and boy-toy locked the kids in their rooms as punishment for disobedience. But never, I swear, NEVER for anywhere near 24 hours. Poor thing! Her horrible kids are lying about her and the BF! What rotten kids! Yeah, right. I'm not buying that load of manure. Sorry, I'm not a farmer, and don't need the fertilizer right now. Try calling the FFA, wench, THEY might be in need of some BS for their fields. The walking uterus went on to say that Jerk-ua, was not a bad man, and that she had five uncontrollable kids who needed his brand of discipline. Not one, not two, not three, not four….but ALL five of her kids were uncontrollable. Gee, I wonder if that has anything to do with the way they have been raised? Or abused. Take your pick. Perhaps if she had had a parenting class or two, her kids wouldn't be so 'uncontrollable'. But I digress. There is much more to this part of the story, but you can read about it tin the first link – I need to move along.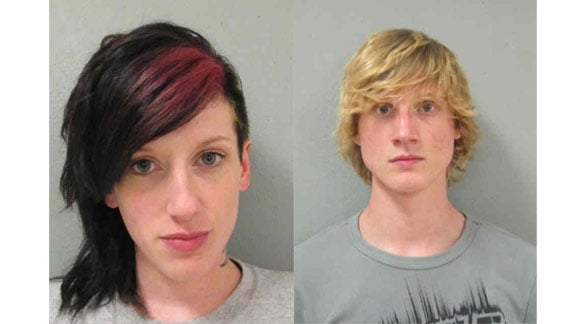 This brings us to the "two" in Two-fer. The scintillating snapshot above depicts two other people who were living in the 'home' at the time of the incident. Both of them were also arrested for possession of drug paraphernalia, at the time of Jerk-ua's arrest. Apparently the mother was spared at that time, AND allowed to retain custody of her children. I can not fathom why. Regardless, within a few days she, too would be behind bars. Why, you ask? Because she is an idiot. Allegedly. One of the idiotic comments she made to authorities when the Jerk was first arrested was that she would continue to discipline her children as she sees fit. Ummm…not so much, I guess. Not if you're in jail.
It seems that Little Miss Thang, otherwise known as the babymama, aided Jerk-ua in disregarding that protective order mentioned above. Apparently there is a 'secret door' under the house that opens into a closet, by which the Jerk has been having conjugal visits with mommy dearest. (This is why I mentioned earlier that I suspected that their home was a 'mobile' home. Usually actual houses are not set up such that you can make an entrance to a closet from under the house.) Oops! Somebody reported them, and they are now both residents of the grey bar motel. They have both been arrested – he for violation of a protective order, and she for A&A, child endangerment, and driving on a suspended license. They should also charge her with criminal stupidity and meanness, IMHO. But I don't think those things are crimes at this point – just character flaws. No word on bonds for either of them, but thankfully, the children have been removed and placed with others. Others who will feed them, and allow them bathroom privileges. Oh, and not lock them up. That's pretty important, too.