Police: Texas solider beat daughter to death
Fort Bliss Soldier Dartarious Graham Allegedly Uses Belt To Kill 2-Year-Old Daughter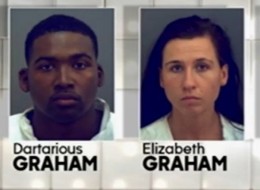 The two seemingly normal looking people above are Dartarious Graham, 20, and his wife, Elizabeth Graham (no age given), of El Paso Texas. They, along with a cousin of the father, have been arrested and are being held in connection with the death of two-year-old Peyton Graham. Peyton is the biological child of both Dartorious and Elizabeth. Since I don't think either of these two individuals deserve to be called by name any longer, I will simply refer to them as Notorious and Loose-screw. Yes, I came up with those myself. Not very original, perhaps, but at least they're accurate.
In the first paragraph, I mentioned that these two are being held in connection with the death of little Peyton. That was not quite accurate. Notorious has been charged with her MURDER, and Loose-screw and Robert Franklin (the cousin) are both being charged with "injury to a child by omission". Folks, that's just a fancy term for not doing a blessed thing to save a child who is being killed right in front of your eyes. They stood by and did nothing as Notorious beat little Peyton to death with a belt. Well, to be completely fair, the bio-slag wasn't actually there at the time of the fatal beating, but according to reports, she had witnessed multiple previous beatings and did nothing to stop them. How can a mother stand by and watch anyone beat her child that way? The cousin actually witnessed the beginning of the final beating, and turned and walked away. My head spins. All three of the pseudo-adults in this debacle are being held at the El Paso County Jail. Notorious has a $250,000.00 bond, but no bond amount was listed for either the sorry slag or the callous cousin.
Why, you may ask, did this precious child deserve such a beating? She didn't. NO child ever deserves to be treated this way. But Notorious thought she did, and why? Because she "soiled her diaper". What?!?!?! She was TWO freakin' years old! What in the blue depths of Hades did he expect? If she was wearing a diaper, that tells me that he KNEW she was not potty-trained, and therefore he knew that she might occasionally have an accident. However, instead of cleaning up his daughter, getting her a clean diaper and taking her to the bathroom to see if she needed to finish up (as any reasonable parent would do), he decided that a beating was in order. People like this make my flesh crawl. I hope he has explosive diarrhea every day for the rest of his life, and his inmates beat him every time he stinks up the cell.
As indicated in my previous remarks, this was not little Peyton's first beating. Authorities have said that older wounds on the girl's body were indicative of prior assaults by the sperm-donor. Good Lord. Older wounds? At two years old? When did the abuse start, I wonder? If this case is anything like previous cases, it likely started before she was a year old. Sick arse-tards. You don't beat a baby, people. Ever. They are fragile, and often don't realize that they have done anything wrong. Especially when that 'wrong thing' is a biological necessity. All people have to use the bathroom, and babies sometimes can't control their bowels at that age.
Good grief, people, if I had beaten my children like this every time they had an accident while potty training, I wouldn't have any children left alive! ALL children occasionally have accidents. And some kids have "deliberate accidents" (they are having so much fun playing they don't want to interrupt playtime to go to the bathroom). One of mine did that one day in the back yard. She had been completely potty trained for several weeks, and came in with saggy pants and an ungodly stench about her. I knew what she had done, but I asked her anyway, and she politely explained to me that she "was having too much fun and didn't want to come inside." So I beat her bloody, and threw her on the floor. No, NOT really. What I did was send her to the bathroom with instructions to remove her soiled clothing and get into the bathtub. I told her if she was old enough to know better, and stubborn enough to poop in her pants anyway, she could clean up her own mess. I waited about five minutes and went to see if she was doing as she was told. She had taken off her clothes and dropped them on the floor, and was standing in the bathtub with crap from her waist to her ankles. And in the bottom of the tub. Guess what? I STILL didn't beat her. I helped her wipe away the major portion of the mess with TP and flushed it. Then I turned on the shower and finished bathing her. Then I made her watch as I rinsed out her panties and shorts in the toilet, telling her next time, I would make her do it. She never did it again. No beating required. Now, this little 'lesson' did necessitate a thorough cleaning of the bathtub and bathroom floor afterwards (by me), but hey, what are Scrubbing Bubbles for, anyway? Oh, and I didn't have a dead kid when I was done 'teaching' her, either. Everybody wins!
Why do some parents think that beating a baby with a belt will teach it ANYTHING? The only thing abuse like that teaches children….is fear. The floor is now open for comments…..